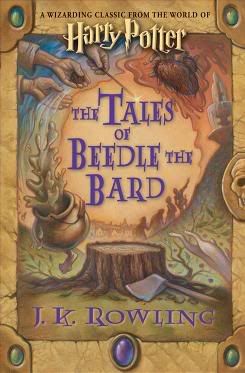 Harry Potter's adventures ended in 2007 with Deathly Hallows, the seventh book in the blockbuster series, but The Tales of Beedle the Bard, a book of five fairy tales written and illustrated by Rowling, goes on sale Thursday. First printing: 3.5 million copies. (Hallows' first printing was 12 million.)
Like the Potter books, review copies aren't available to critics, and the contents haven't been leaked on the Internet.
But Rowling's star power and healthy sales of young-adult books, including Stephenie Meyer's immensely popular Twilight series, are strong indicators that Beedle will be a best seller.
And then there's the fact that Beedle has a direct link to the boy wizard's adventures: Beedle is the book that Hogwarts headmaster Albus Dumbledore bequeaths to Harry's friend Hermione Granger in Deathly Hallows.
Advance sales of the $12.99 edition, which retailers including Borders, Barnes & Noble and Amazon are offering at a deep discount, are brisk on the three booksellers' websites.
Amazon also is publishing 100,000 copies of a $100 collector's edition. pic & source